In our travels we have always marveled at what we can learn from others around the world.  In Europe barn buildings are regularly constructed differently.  
Several years ago we were hired to erect barns in South Western Ontario, Ottawa Valley and even in Quebec to erect structures of an imported German building.  It got us to thinking.
A POST Integrated Structure puts together several building components, namely:
Bent sections made of posts and beams that are either structural metal or glulam timbers
The wall and roof purlins are glulam members
The cladding to roof and walls is an Insulated Metal Panel
Building with the POST Integrated Structure provides some key benefits:
Construction Timeline:  Building times for the structure are reduced by 60% to 70%
Safety of Construction:  As opposed to large crews crawling over the structure with safety harness and ropes, most of the construction is accomplished from the safety of lifts.
Fire Resistance: Rather than building a structure of kindling wood via traditional post frame or stud frame, the structure is now highly fire resistant.
Grand Interior:  The high interior due to lack of an attic cavity provide for much height and a grand appearance to all who visit.
Large Air Mass:  High ceilings provide a large air mass for the livestock within.
Today we can offer you this building system for your dairy barn; horse facility; commercial facility or your equipment building.  We have worked with engineering and on material sourcing to ensure this building system remains competitive to typical construction systems.
To begin design your pole barn contact our team at POST – we would love to assist.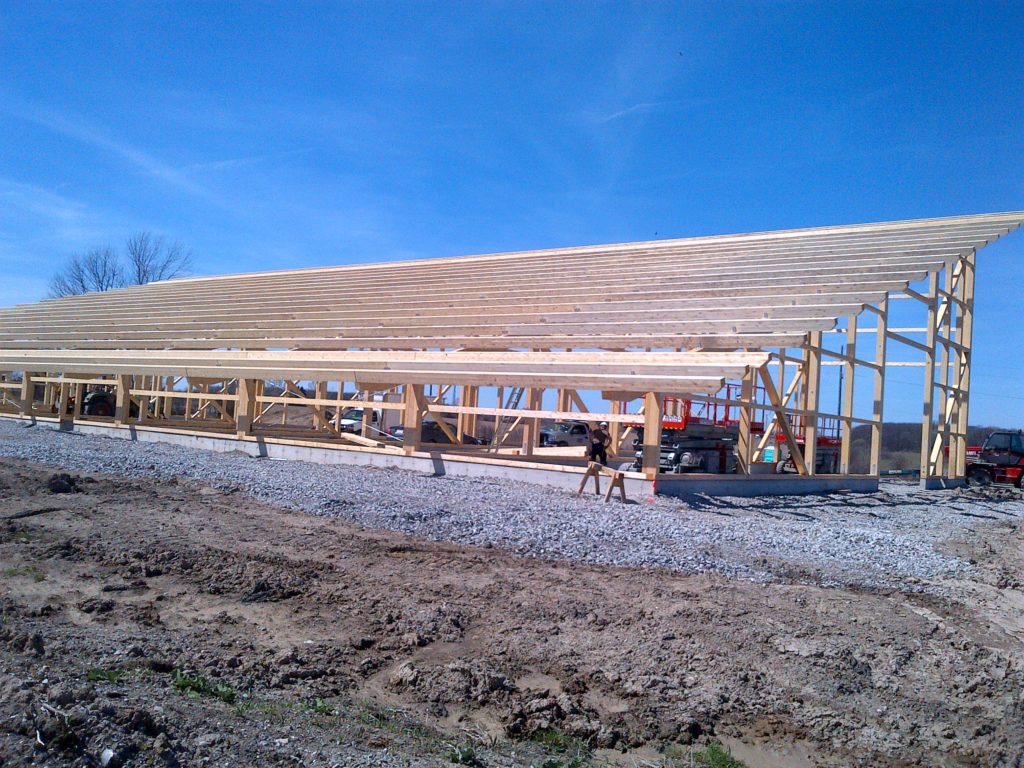 Reducing Barn Fires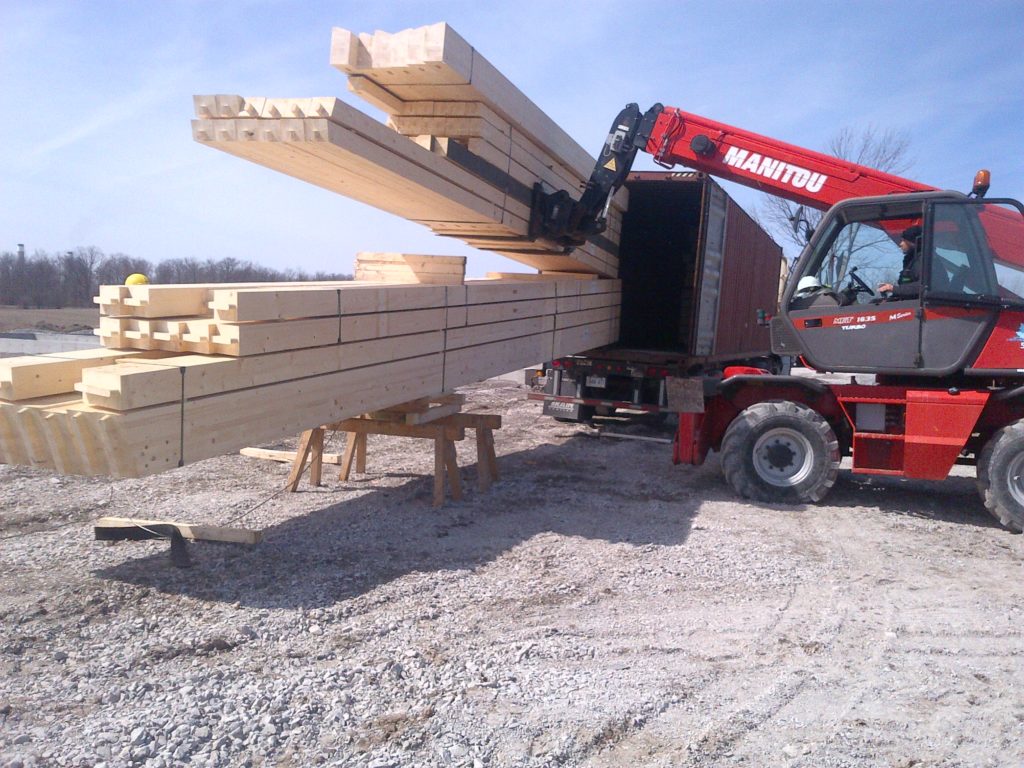 We all know of someone who sustained a barn fire.  It is never an experience they ever wish to endure again.  In an hour, generations of pedigree can be wiped out.  Whether an elite equine track sprinter, an accomplished dairy breeding program or your family pet – barn fires are painful.
In almost every fire of a barn built in the last half century, the fire gets into the attic and the trusses along with their strapping and bracing burns like kindling fire.  One moment it is there, the next it is gone.
The building concept of POST Integrated Structure is the difference of trying to start a campfire with a pile of cedar shims versus a hardwood log.  For glulams the slow burning rate of large timbers is approximately 0.6mm/minute and char layer has an insulating effect which protects the unburned portion of the wood.
Insulated Metal Panels
Building with Insulated Metal Panels (IMP's) is quite commonplace in Europe and becoming more recognized in North America, especially in commercial construction.
Utilizing Insulated Metal Panels provides some very unique benefits:
Good Thermal Value:  When installing on the outside of the frame, it ensures a polyurethane foam core of continuous rigid insulation along with good interconnection system provides no thermal breaks compared to traditional post frame and stud frame construction.
Ease of Construction:  Each panel formulates the exterior cladding, the interior cladding and insulation barrier.  Now with each panel, 3 steps are completed at once.
Length of Life:  The panel will last the length of building service.  No settlement of insulation in the wall cavity.